2018 Superbowl Squares are now open for purchase
If you are interested in a square all you need to do is click on the link and sign up for your square and then come back here and pay for it with your paypal account or credit card. You can also track down a booster member and pay by cash or check.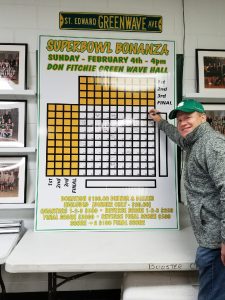 Ever since the STE Booster Club initiated this event it has been one of the most well received fund raisers in the area. Chefs prepare fabulous food for your pleasure…..all sorts of libations are available from the moment you enter….and possibly even other games of the day might be running.
So plan now to book your square (see below for details) for this year's Super Bowl Bonanza and stop by Green Wave Hall any time after 1 pm on Super Bowl Sunday (Feb 4th) for fun, merriment, eats and libations!!! Booster Club even provides a separate "smokers" area for those so inclined.
For $100 you receive 1 square and 1 reservation for dinner. If you just want to attend the event a donation of $20.00 per person is required.
To pick your square we are asking you to follow the link below.
 Details to come – pay for square below
1. Go to
2. In the Join Password box, enter 'greenwave' (without the single quotes)
3. Fill out the form information, including a personal username and password.
4. Make your picks and log back in to see the results and standings.
To pay for your donation fill out the form below.